Residential Air-Conditioning Specialists Noosa Heads & Surrounding Suburbs
Gealy's Are Your Specialists For Sunshine Coast Air Conditioning
With our professional air conditioning services, we can help find the perfect system for you and your family's needs. We offer a wide range of high quality brands that suit all budgets.
Here at Gealy's we know that choosing the correct system is important and our staff will be able to help you with this. We will advise what the most effective capacity is and options for the positioning of your system that will not only look great but will make living in your property more comfortable. Installing domestic air conditioning will also add value to your property. 
Choosing the right air-conditioning system can come down to a multitude of variables such as:
The area of the proposed air-conditioned space

The heat load in proposed air-conditioned space, calculated by adding the heat displaced by glass windows and doors

Skylights

Whether you have an insulated or non-insulated ceiling space

If your house is in a shaded or partly shaded position.
A lot of people do not realise that if you undersize your air conditioning system that it will not only struggle to keep your room at a comfortable temperature but it will cost you more to run, will not cycle as often and will create more wear and tear on vital components.
Reverse Cycle Split Systems
Split systems require an indoor head unit and an outdoor condenser unit. These are connected with copper piping that allows the refrigerant to flow. This moves the heat from the indoor unit to the outdoor unit. The wall mounted split system is the most common option in today's market for ease of installation and price. The wall mounted split is a good addition into the average home. With the option of adding additional units as required and as your budget permits and no large upfront expenses.
Reverse cycle systems also have a heating mode. This is one of the most cost efficient ways to heat your property.
Ducted Air Conditioning Systems
A ducted system can be used in a new home or be tailored to suit your existing. They consist of supply air vents in your allocated rooms and have a return air grille positioned discreetly in a hallway. They are multi-zoned for efficient operation when cooling/heating is only required in certain areas of your home.
Ducted air conditioners are an effective option if ceiling space is not an issue. Concealing the bulky indoor components in your roof, the supply air registers are neat and small, while also giving a more natural cooling/heating feel. The ducted system is a whole-house solution and can be made to look great and operate even better with the correct air conditioning installation.
This air conditioning unit consists of a number of units running off one condenser. Although not the most cost efficient to install, these systems can provide a great solution where there is limited space.
These air conditioner systems are generally used when there isn't a lot of ceiling space and a split system cannot be used.
Cassette units were mainly used for commercial properties but with the new technology and the new slimmer designs, they are being used on more residential properties as well.
For commercial air conditioning solutions, click here!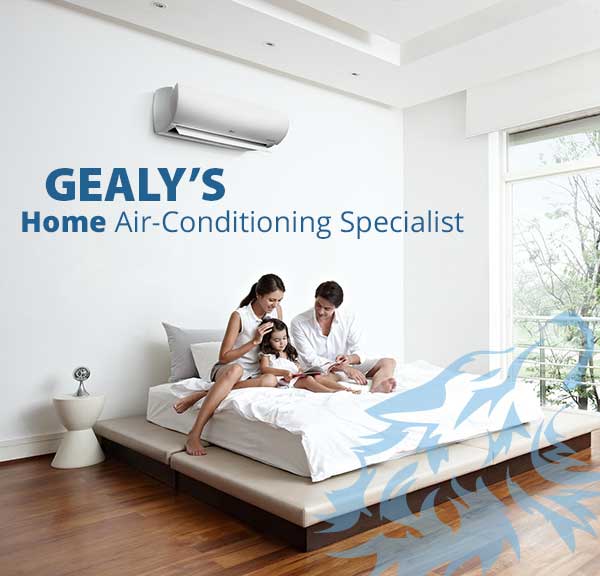 At Gealy's, we specialise in the supply and installation of a variety of brands, including:
Daikin
LG
Mitsubishi Electric
Panasonic
Carrier
Fujitsu
Toshiba